Harbour Seal Lacs des Loups Marins subspecies
Phoca vitulina mellonae
SARA Status
No Status


NS

Special Concern


SC

Threatened


TH

Endangered


EN

Extirpated


EX
SARA Status
No Status

NS

Special Concern

SC

Threatened

TH

Endangered

EN

Extirpated

EX
COSEWIC Status
Not at Risk


NR

Special Concern


SC

Threatened


TH

Endangered


EN

Extirpated


EX
COSEWIC Status
Not at Risk

NR

Special Concern

SC

Threatened

TH

Endangered

EN

Extirpated

EX
Description
The Lacs des Loups Marins harbour seal is a unique harbour seal population that lives exclusively in fresh water. It is found only in Quebec, in a group of lakes and rivers located in Nunavik, about 250 km east of Hudson Bay. Scientists estimate that the Lacs des Loups Marins population has been isolated from its original marine habitat for 3,000 to 8,000 years.
The exact number of Lacs des Loups Marins harbour seals is unknown, but it is between 50 and 600, which is certainly a small population. This seal can be distinguished from marine harbour seals by its particularly dark pelage, its wider and flat skull and the fact that it lives exclusively in fresh water and breeds earlier than other seals. The Inuit have found its pelt to be softer and glossier than that of other harbour seals. According to the Cree of Northern Quebec, the freshwater seal is smaller and darker than marine harbour seals, behaves differently and has a distinct taste.
Habitat
The known range of the freshwater harbour seal includes Lacs des Loups Marins, Petit lac des Loups Marins and Lake Bourdel. These lakes are located approximately 160 km east of Hudson Bay, in Northern Quebec's Ungava Peninsula. According to traditional Cree and Inuit knowledge, the population extends to a number of other lakes and rivers in the region.
Lacs des Loups Marins harbour seals feed on lake whitefish, lake trout and brook trout. In the wintertime, strong currents, fissures and air pockets created by complex ice forms provide access to ice-free locations where the seals can breathe. Females have only one pup, in May. Although harbour seals usually give birth out of the water, no births have been observed on the ice during the Lacs des Loups Marins harbour seal pupping season. This suggests that these seals have the distinctive feature of being born in under-ice shelters.
Threats
The low population size and limited geographical distribution of the Lacs des Loups Marins harbour seal increases its vulnerability and limits the recovery potential for this subspecies. Climate change could also limit the recovery of this population, which may have difficulty adapting. Although the Lacs des Loups Marins harbour seal population has always been small, it has declined in the past because of hunting. Today, Aboriginal hunters catch the occasional seal, but there is no traditional hunting of this species.
Potential construction of hydroelectric dams is the primary threat, as it could alter the currents and increase the presence of ice during the winter, thereby reducing the seals' access to air.
Further Information
In 2007, the Committee on the Status of Endangered Wildlife in Canada (COSEWIC) designated the freshwater harbour seal as endangered. In collaboration with Aboriginal organizations, a recovery team will identify measures to help rebuild the Lacs des Loups Marins harbour seal population. Studies have been launched to learn more about the biology and ecology of this subspecies, particularly through Aboriginal knowledge.
Harbour Seal Lacs des Loups Marins subspecies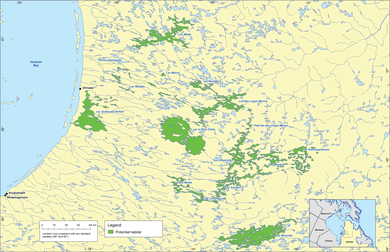 The Lacs des Loups Marins harbour seal spends most of the winter under water but, like any mammal, it has to come to the surface to breathe. However, unlike other seal species such as the ringed seal, it lacks long claws on its foreflippers and cannot excavate and maintain holes in the ice. During the Arctic winter, it relies on areas of permanent open water in order to get out of the water.
Date modified: