Striped Bass (Southern Gulf of St. Lawrence Population)
Morone saxatilis
SARA Status
No Status


NS

Special Concern


SC

Threatened


TH

Endangered


EN

Extirpated


EX
SARA Status
No Status

NS

Special Concern

SC

Threatened

TH

Endangered

EN

Extirpated

EX
COSEWIC Status
Not at Risk


NR

Special Concern


SC

Threatened


TH

Endangered


EN

Extirpated


EX
COSEWIC Status
Not at Risk

NR

Special Concern

SC

Threatened

TH

Endangered

EN

Extirpated

EX
Description
The Striped bass (Morone saxatilis) has the following characteristics:
A long, laterally compressed body with two separated dorsal fins, the first of which is spiny. It has seven or eight horizontal dark stripes along its sides.
It is dark olive green on the back with paler silvery sides and white on the belly.
Total length is up to 1 metre.
The Southern Gulf of St. Lawrence Striped bass population was historically exploited by commercial and sport fishing. It remains highly-prized by anglers and Aboriginal groups. Due to declines in abundance, the commercial fishery for Striped bass was closed in 1996 and the recreational and Aboriginal fisheries were closed in 2000.
Since 2011, this Striped bass population has achieved both its recovery limit and recovery target. 2013 saw the re-opening of a recreational fishery and Aboriginal fishery.
Habitat
This Striped bass population is widely distributed throughout the estuaries and coastal waters of the southern Gulf of St. Lawrence, particularly the east cost of New Brunswick, but also Prince Edward Island, part of the Gulf coast of Nova Scotia and part of the Gaspé Peninsula in Quebec (Chaleur Bay).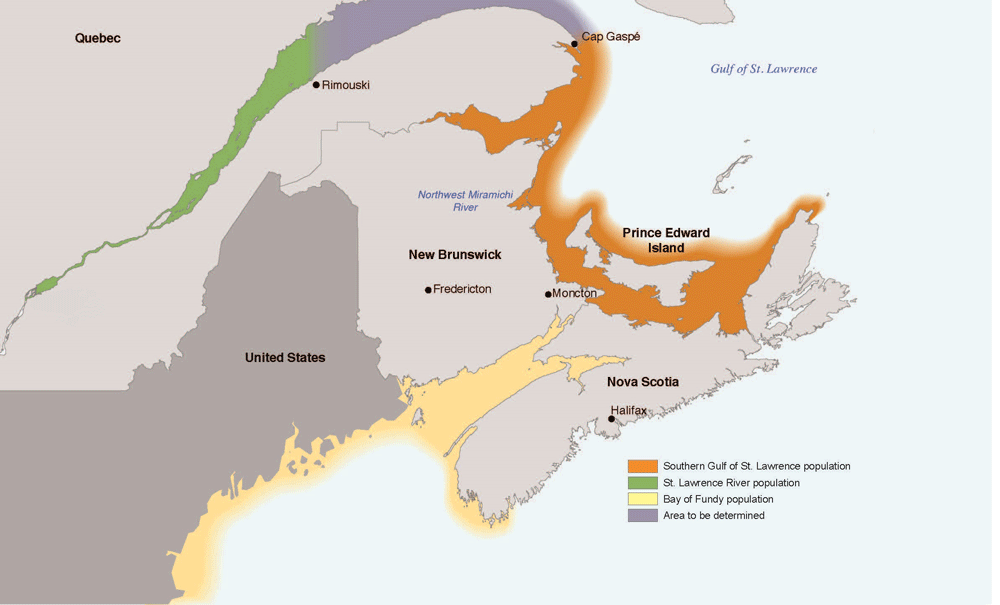 Threats
Illegal harvest, bycatch in other fisheries, and disturbance of habitat could also affect the survival of the species.
Further Information
For more information visit the SARA Registry
Striped Bass (Southern Gulf of St. Lawrence Population)
Date modified: