A New Generation of White Sturgeon Stewards
November 2008
Spike, Nemo, and Terry Fox were carefully lowered and released into the Nechako River under the watchful eye of their kindergarten guardians. The three juvenile sturgeon were among 1,200 named and briefly adopted by elementary students in the 2008 Save Our Sturgeon Juvenile Release Event in Vanderhoof, B.C.
In early October, more than 1,000 students from 22 local schools toured stations investigating touch tanks at the Riverside Park mobile hatchery. They learned the life history of the White Sturgeon, and had the chance to release their "own" juvenile sturgeon into the Nechako River.
The third annual release event aims not only to help supplement the wild population with hatchery-raised juveniles, but also to engage a new generation of White Sturgeon stewards. Participating students are given a certificate with their sturgeon's name, release date, and electronic tag number. Tag numbers of located fish will be posted on the "Where's my sturgeon?" part of the recovery initiative Web site.
The Nechako White Sturgeon Recovery Initiative, which coordinates this event, includes members from DFO, the B.C. Ministry of Environment, Carrier Sekani Tribal Council, Alcan, Freshwater Fisheries Society, District of Vanderhoof and the Fraser Basin Council. The organization's goal is to help the dwindling Nechako population recover to self-sustaining levels.
DFO is heavily involved in this project, contributing labour and funding as well as participating in community and technical working groups aimed at planning for the recovery of the endangered fish. Seven DFO staff members were on hand at this year's event.
Fishery Officer Phil Taylor believes that "involving the young students of today in recovery efforts such as this will go a long way to increase our community support and to ensure that the White Sturgeon are around for future generations."
Currently, White Sturgeon populations are declining in B.C. and human-related causes are mainly to blame. Decline has been linked to habitat loss, harvesting, and changes in water flow and water temperature often caused by dams. Without intervention, it is predicted that the population could become extirpated within the next 25 years.
As the last few juvenile sturgeon disappeared downstream several children commented that they would miss "their fish." This winter, many of the Vanderhoof high-school-student volunteers will be continuing their sturgeon stewardship by helping at next year's event. Although the long-term survival of this pre-historic fish is uncertain, it is clear that the next generation of sturgeon stewards is on board.
Did you know?
The Nechako River population is one of the four populations of White Sturgeon designated as endangered under the Species at Risk Act (SARA) and, as such, is a protected species population in Canada. A recovery strategy is being completed by DFO Pacific for the White Sturgeon.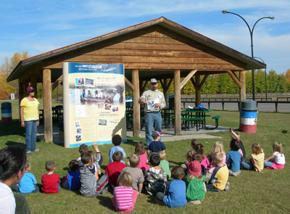 Date modified: